Our materials
Every Mrs.Me design showcases a love for fashion and an appreciation for the craftsmanship of couture. This is achieved through meticulous attention to detail and the use of carefully selected, high-quality fabrics. More information about the materials used in our collection can be found below.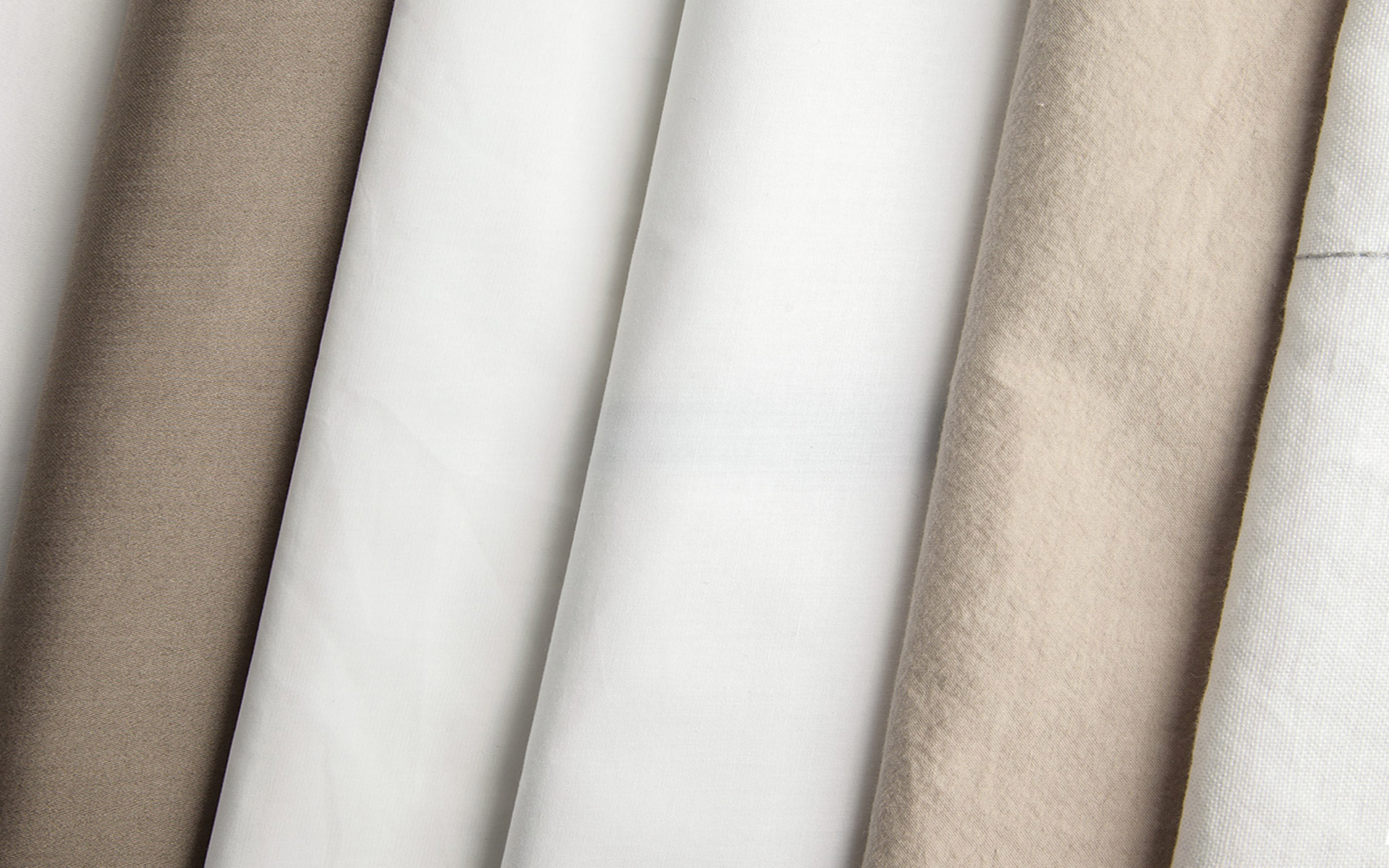 The fine fabrics of Mrs.Me
Mrs.Me selects only the finest quality fabrics for her bed linen: cotton percale, cotton sateen and lyocell of a high thread count weave. Mrs.Me luxurious bed linen excels in distinctive design and elegance. Manufactured with respect for nature and people, the material is long-lasting, breathable and feels soft to the skin. Mrs.Me blends style, quality and comfort to provide blissful sleeping.
The finest cotton
Both cotton percale and cotton sateen can be produced from the same yarns. The difference between percale and sateen fabrics is the way the fabric is woven.


COTTON PERCALE

Percale is made with a basket weave, which interlaces threads at a ratio of 1 to1; one yarn over, one yarn under. It is constructed using a high quality weave with a thread count of 200 or more. The appearance is flat with a matte to semi-matte look. The finer the yarn and higher the thread count the more natural lustre you will see in the fabric.

COTTON SATTEEN

Sateen has a sheen and feels soft because it is woven in another way. With Sateen, the thread interlaces at a ratio of 4 to 1; four yarns over, one yarn under. The face of the fabric is covered by the warp yarn, visible by a small twill line. This gives the fabric a smooth, satin-like look. Sateen is easier to iron and slightly warmer than percale.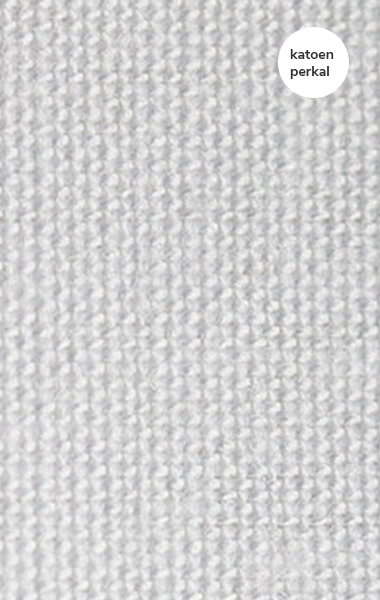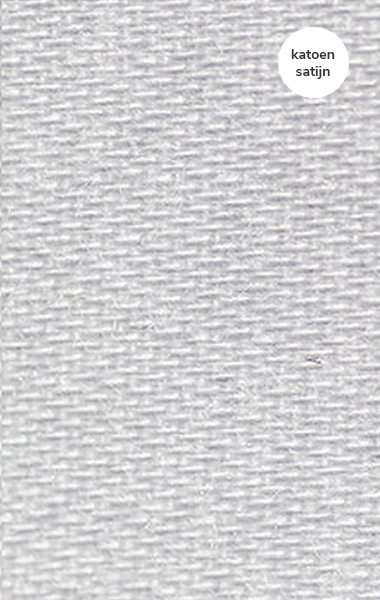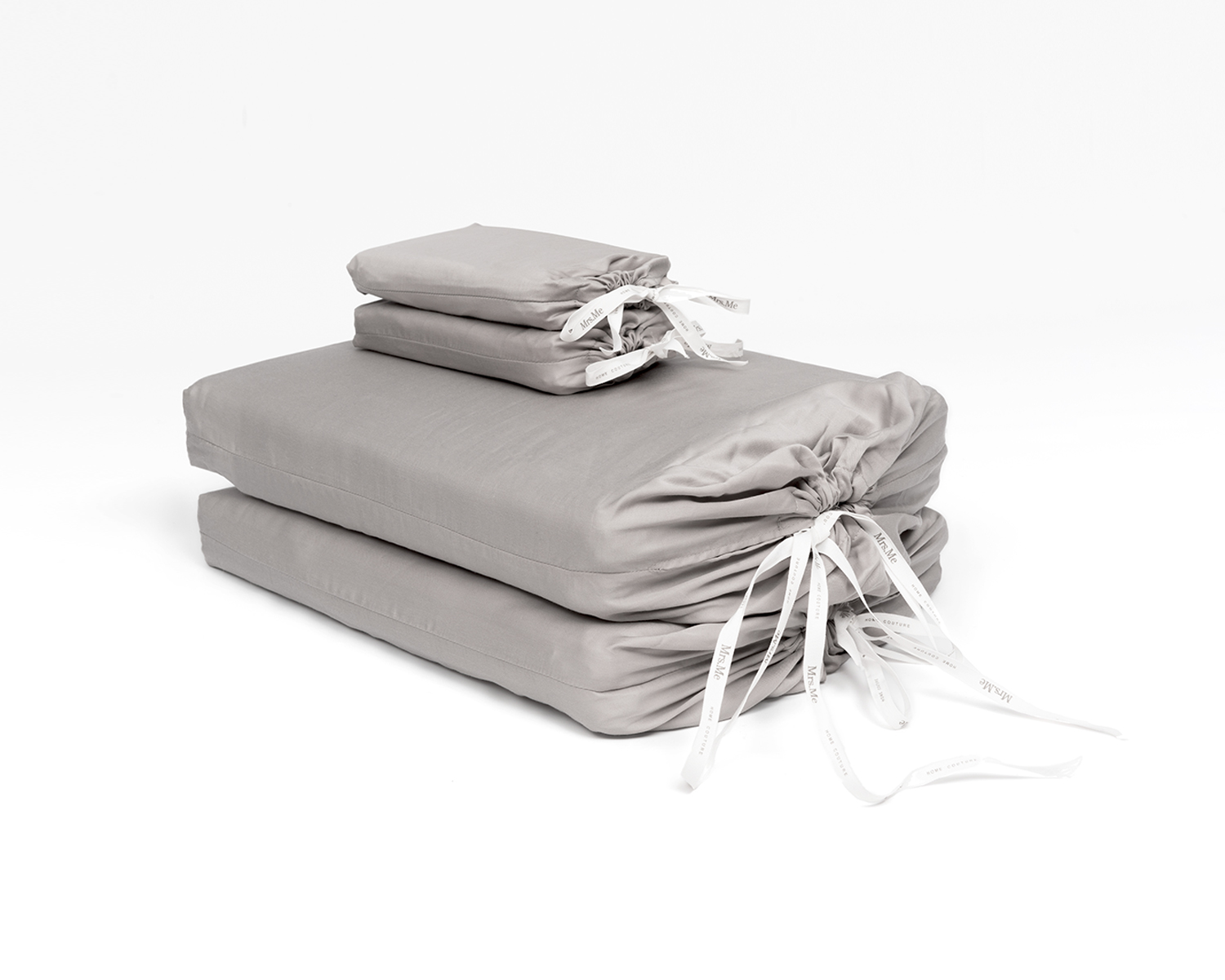 Tencel
SUSTAINABILITY

TENCELTM Lyocell is a highly acclaimed fabric, produced from the wood cellulose of eucalyptus trees. The tencel fibers have gained the reputation for their environmentally responsible closed loop production process, which transforms wood pulp into cellulosic fibers with high resource efficiency and low ecological impact. This solvent-spinning process recycles process water and reuses the solvent at a recovery rate of more than 99%.

NATURAL COMFORT

Tencel fibers are versatile and distinguished by their greater strength among cellulose fibers. It support body temperature regulating properties through their moisture management. Derived from natural material, the microscopic fibrils of cellulosic fibers are structured to regulate the absorption and release of moisture, contributing to more breathable fabrics that support the body's natural thermal regulation. Also, the smooth fiber surface of TENCELTM Lyocell fibers absorbs moisture more efficiently than cotton. This supports the body's natural thermal regulating mechanism, keeping your skin feeling pleasantly cool and dry throughout the day and night.

Set Cocoon Platinum (see image) contains a duvet cover and pillowcases in a warm grey colour and executed in Tencel 300 TC.
Weaving
Proper weaving and finishing techniques, applied to the right kinds of yarn, are the key ingredients to producing the world's best textiles.

THREAD COUNT
Thread count indicates the fineness of a fabric. It is measured by counting the number of threads per square inch of fabric, including both the length threads (the warp), and width threads (the weft). Thread count is often used as a measure of fabric quality for bed linens. Standard cotton thread counts are around 150, while good-quality sheets start at 180. A fabric count of 200 or higher is considered Percale.

STAPLE
While thread count is important, the most prominent factor in fine fabric is the quality of the cotton. Finer cotton has longer plant fibres, also known as 'staple'. With a longer staple, the diameter of the thread can be made smaller. Finer threads can be woven closer together for more threads per inch: this is known as a higher thread count. All of these elements make the fabric softer, more durable and lightweight.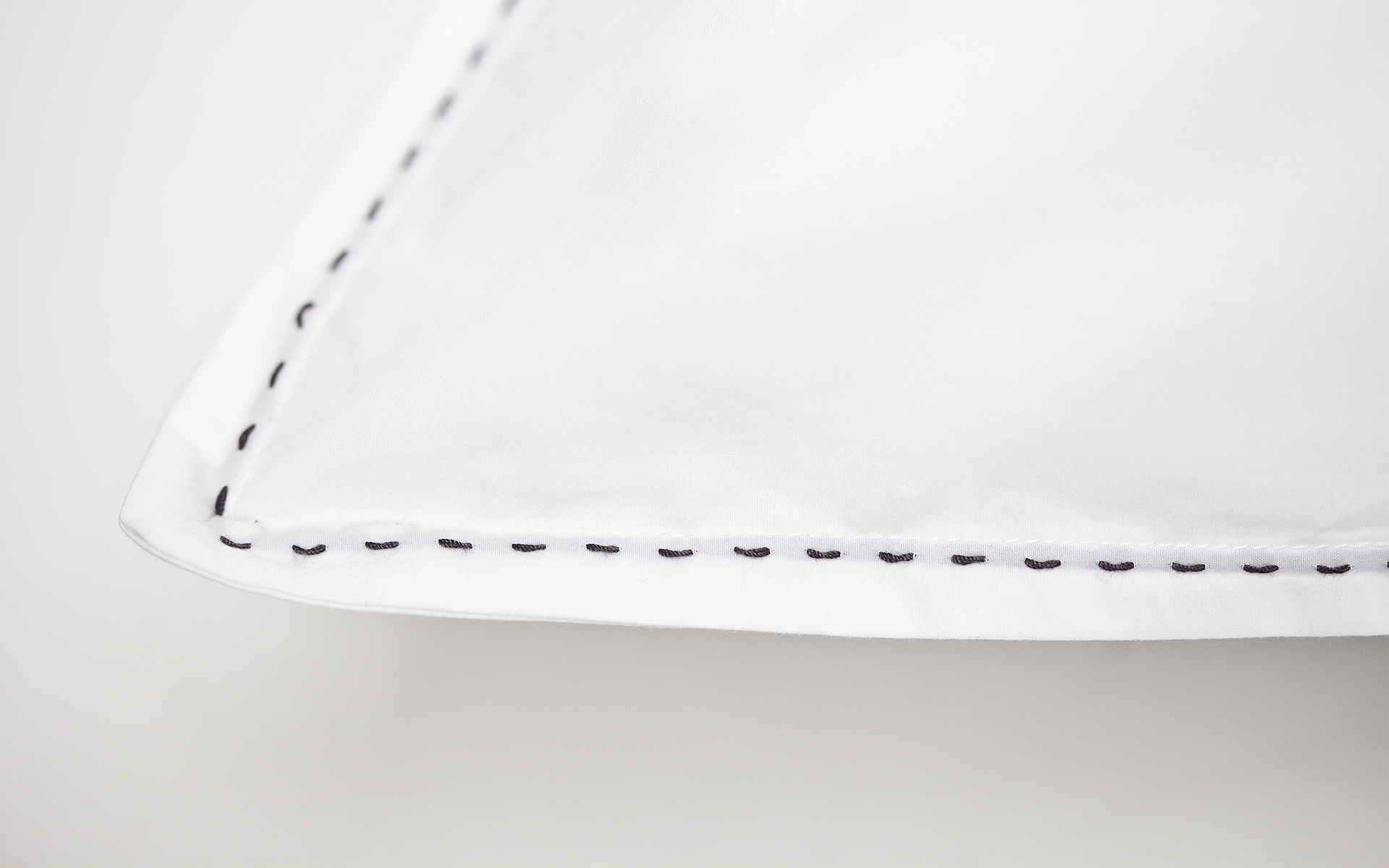 Skin friendly
As we spend around a third of our life in bed, quality linen should also have good skin-friendly properties. Mrs.Me has chosen NOT to apply the 'Easy Care' finish to her bed linen fabrics. 'Easy Care' is a chemical finish that prevents textiles from shrinking and wrinkling. This treatment is done with formaldehyde, a harmful substance that will be released during the use of bed linens. So while Mrs.Me duvet covers do crease, they do not contain toxins.
Oeko-Tex
All our cottons carry the Oeko-Tex Standard 100 certification. The independent test institutes of the Oeko-Tex Association assure that certified textiles have been tested for harmful substances and thus pose no risks to your health. The certification also guarantees that our textiles are produced according to the highest level of environmental sustainability. The packaging of Mrs.Me's bed linen does not contain PVC or other toxic chemicals.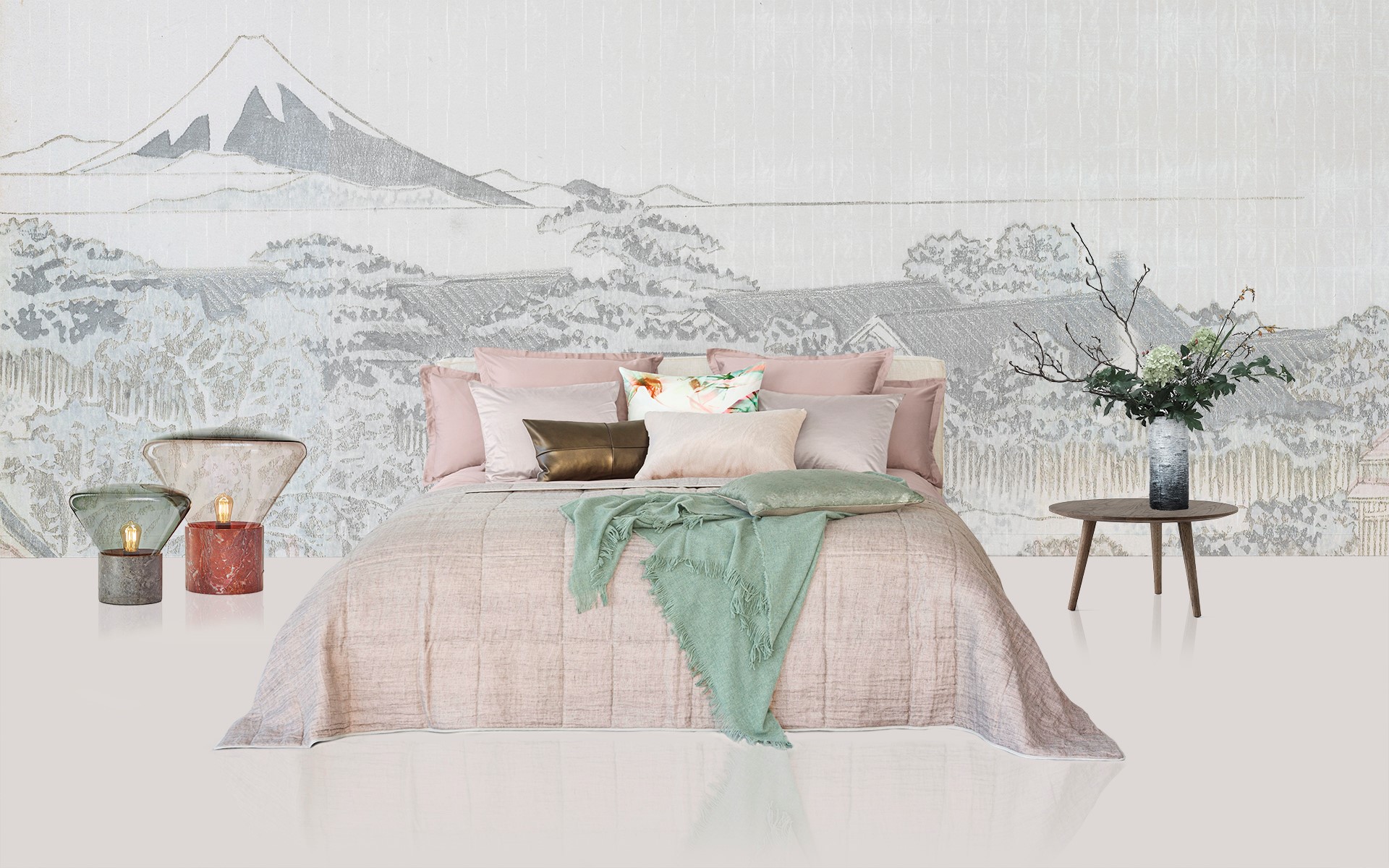 Our collections
The synergy between all individual products is what makes the collections of Mrs.me stand out. All items are designed to complement each other; the plaids, bed-end spreads and cushions harmonize with the fine duvet cover sets. Styled together, they form a full setting for bedroom and lounge. Inspired by the dynamic of fashion new items are added to the collections twice a year. Mrs.Me home couture is sold in design shops and online.